Lower GDP, but Higher Quality of Life?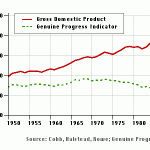 When GDP falls, we call it a recession, and we all know that is a bad time.  Unemployment is up, the stock market is down.  Earnings fall, social services falter, teachers are laid off, deficits rise.  We all look anxiously at economic numbers, waiting for recovery, for GDP to rise.
But here's the truth that we do not like to see:  in a world of limited resources and many people, our fixation on increasing economic growth is luring us into disaster.  Already we are using more resources than is sustainable.  We can't keep producing more each year.  We have to ask instead:  "What's the difference between quantity and quality?  How can we have less quantity of stuff but still have more quality of life?"
An economist could take you on an all-day tour of how to calculate Gross Domestic Product (GDP).  But to put it simply, GDP attempts to quantify how much we produce in a year of goods, services and information.   GDP, as most governments calculate it, misses a lot of productivity.  It leaves out the services we provide to each other without the exchange of money, and doesn't include unreported (black market) transactions.  But even if it isn't precise, repetitive measurement of GDP is supposed to give us an indication of how an economy is expanding, or falling into recession.
If we accept GDP as a measure of economic expansion, however, then it is fair to ask what fuels that expansion, what resources the expansion is consuming, and what space the economy is expanding into?  Because the economy is not a virtual world where new resources can be infinitely added and energy is free.  Humans are an integral part of a biological network, subsisting on energy from the sun, and living inside a thin geophysical envelope.  We have only the earth and biosphere as it is, and must do our best to live enjoyably within it without degrading it.
That there are limits to growth is not a new argument.  Until recently, however, those who voiced that argument were drowned out by the majority, who countered that resources are ample to our needs, and that any shortages that do arise from time to time can be overcome through new sources, or new methods.  Those who suggested that GDP does not measure quality of life were put down by pointing to the historical rise in the standard of living of the industrialized nations, and by presenting the following inductive argument and rhetorical question:
a)    Economic growth is historically associated with increases in living standards;
b)    Increased living standards are desirable and good;
c)    Therefore, economic growth is desirable and good.
"Would you deny the underdeveloped world their chance at a better life?"
Unfortunately, in this case inductive reasoning fails.  The dramatic improvements in living standards over the past 300 years occurred because the human race found a new, fantastic source of energy:  coal, oil and natural gas trapped in the crust of the earth.  Essentially all of the technology of a modern economy is directly or indirectly based on the energy of fossil fuels.  The lifestyle today of the average citizen of an advanced industrial nation is supported by an energy flow several times greater than that which supported her ancestor of 1700 – and there are many more of us alive today to be supported.
Proposing that developing economies grow their economies to provide living standards improvements presumes the underdeveloped world could grow their economies in the same way that the industrial nations have.  The problem is:  they can't. The United States has about 5% of the world's population and consumes 20-25% of global fossil fuel energy.  The U.S. consumes similar percentages of other natural resources.  And it has done so for many years, thus building up its industrial and social capabilities.  At the same time, we have already caused atmospheric changes that will create climactic change:  the world needs to begin burning less fossil fuel, not more.
Meanwhile, the population of the planet has doubled and doubled again since 1900.  The argument is offered that population growth decreases when development increases, and that is hopefully true.  But even with just the people we have now, there simply aren't enough energy, mineral, or biological resources in the world to support U.S.-style economic growth for the underdeveloped countries.   If development requires an increasing GDP, there is no solution to this problem.
Well then, what if we simply use energy and resources more efficiently, so that we can continue to produce more stuff, but use less matter and energy in production?
Efficiency, driven by intelligence and applied technology, is certainly key to our survival.  But the question above still presumes that producing more stuff is desirable.  The best way to improve efficiency, however, is to make goods that last longer rather than more goods, and services of higher quality rather than more services. The call to inventive efficiency is really a call for higher quality in our goods and services, not for a means to produce in greater quantity.
It is time to put aside, explicitly and decisively, the objective of higher GDP.   GDP measures quantity, not quality of production.  GDP presumes that a growth in production is a growth in quality of life, when in fact we have reached a point that the opposite is true. Not even our current level of goods production can be sustained, much less continual increases.  We must instead take up new measures of efficiency and of quality of life, and manage to those, not to GDP.   As soon as we completely change our mindset of growth for a mindset of quality and efficiency, we will find that there are tremendous opportunities to improve our lives and lifestyles.
For more information on GDP and alternative measures of development, see:
IEEP Patrick ten Brink's Presentation on Beyond GDP indicators… http://tinyurl.com/5vbgv3
Beyond Growth, by Herman Daly  (book) http://cli.gs/VsSYNm
Calvert – Hendersen Quality of Life Indicators (website):  http://cli.gs/Bg1U16
Flynn Research, Sustainability and Quality of Life Indicators (report) http://cli.gs/nPYVgz
Chapter 5 of Herman Daly's Steady State Economics (1977)   http://cli.gs/Zjbm5Q