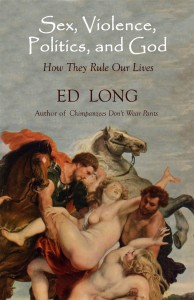 In an extraordinary act of social altruism, noted psychiatrist and author Edward G. Long is distributing his bestseller "Sex, Violence, Politics and God" free in PDF form, and as a 100% browsable edition on Google Books (in process).   Please feel free to gift this important book along to your friends and family.  The attached file can be read on any electronic device that supports the Adobe PDF format.  For iPhone users, the Aji Reader app ($0.99) allows you to read PDF format documents easily on your iPhone.
Click on link above to Download this important book in PDF form.
BOOK SUMMARY
The author's previous book, Chimpanzees Don't Wear Pants, explained the evolutionary origins of the basic needs and pleasures that motivate human behavior. This volume describes why those needs and pleasures are so often frustrated.
Most importantly, it shows how an understanding of our emotional needs enables ambitious individuals to manipulate our beliefs, our wishes, and our very lives.
It elucidates the inevitability of corrupt and incompetent governments, and why we put up with them.
Indeed, it will clarify why we put up with anything, and why so many of our 'solutions' immediately lead to new problems that are even worse.
AUTHOR BIOGRAPHY
Before his retirement Ed Long had worked as psychotherapist, teacher, court consultant, public health planner, and psychiatric hospital administrator. In addition to his professional activities his research has included history, anthropology, and sociology. His books attempt to summarize what he has learned from all of that and to illustrate the maxim: What you don't know can hurt you!
He and his wife now live in Silicon Valley where they are visited by philosophers, futurists, humanists, activists — and an occasional human.
Ed is a former Fellow of the American Psychiatric Association, erstwhile genius, and all-around good guy.